Discover How You Think & Learn
Learn how you prefer to think and communicate with your clients, colleagues, and family.
Discover Your Unique, Innate Knowledge
You have knowledge that is unique to you. Discover that potential and nurture it into a presentable package.
Thought leaders change the world by uniquely expressing what they know and their personal experience with it.
You Are An Inspired Thought Leader
You, the Inspired Thought Leader, a video series where I introduce the fundamental concepts behind my work with entrepreneurs, business leaders, and those in career transition, begins with Part One: Introduction. In this video I present the 3 Fundamental Principles towards thought leadership.
Click here
to watch it today!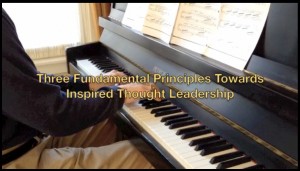 What People Are Saying About Ben
My friends in landscape architecture are always getting stuck on things. I always seem to be the least stuck and I think it's from all the things Ben has taught me over the years. My education is teaching me to just get things out there. Getting hung up on little details doesn't create progress. It's not what should I do, it's what can I do. It's always inspiring to read what Ben has to say and what he's thinking. And even though I'm younger than him, over the past 10 years or so I feel like I've watched him grow into the person that he is today. A great person that I'm proud to call my uncle.
Billy Pausback, Landscape Architecture Student, Iowa State University,

Iowa State University
Ben Wechsler provides professional care and vision wrapped in unique skills and a textured background. He has helped me to better understand how my own vision best connects with those I am seeking to reach and empower. He is a coach, a mentor and a very wise man who brings his rich life experience to the process of growing one's organization. I have valued his adaptability and creative problem solving time and time again.
Dr. John H. Armstrong, President,

Act3 Network
If you are your own worst enemy, if you need some momentum, or get your foot out of the muck, I would talk to Ben.
Ben is constantly using his skills and expertise for the service of others. Recently I was privileged to be a part of one of his creative problem solving meetings, and it was incredible the way he executed the brainstorming process with care and intentionality. As one of his co-workers, this was just another example of Ben using his abilities to improve the cohesion, creativity, and communication of any team he is a part of.
Isaac Groenendyk,

Apple, Inc.
Ben Wechsler is a highly creative problem solver and visionary with a strong intuitive ability to get to the essence of any client issue. He also brings a unique combination of creative skills and technology savvy. He developed a beautiful and functional Web site for my business, and provided helpful support and timely troubleshooting advice on a number of technical questions relating to my Web site and blog. By offering thought-provoking questions, ideas and perspectives around goals and objectives, Ben allows you to get to a greater awareness of your own truth.
Noreen Kelly - Transitions Coach | Communication Consultant | Trust Strategist | Executive Coach
Ben and I continually bounce ideas off one another, and I have greatly benefited from his wonderful perspectives and intuitions.
Jack Vinson, Knowledge Management and Operational Excellence Professional
Ben is the consultant's consultant. He is superb at translating my business' needs into well-designed results. These include not only a redesigned website, but also the process and discussion behind it. Ben took our staff through a process of ideation and discovery. He was able to translate our wish list into specific recommendations for our website, content and navigation. I would recommend Ben with my highest regard for clients who need website design expertise, content management and creative problem solving.
Lynn Hazan, Executive Recruiter in Communications & Marketing, Career Consultant, Job Coach, Speaker
Ben consulted in a marketing capacity with The Joffrey Ballet to help diversify our audiences using ads and e-mail that capture the target audiences idea of dance. Research was conducted to three target groups and Ben used these results along with his knowledge of marketing and web advertising to create a successful campaign to invite diverse audiences to The Joffrey Ballet.
Liz Burnham, Director of Marketing,

Joffrey Ballet
Companies We Have Worked With
We only work with the best.